Coronavirus
Coverage
Our most up-to-date info and news on COVID-19.
Your Daily Dose
The TRiiBE Team will be posting daily updates about COVID-19, the infectious disease caused by the coronavirus.
More info
Phase IV: Gradually Resume
Chicago will be moving to phase four this Friday, June 26 after nearly three weeks of the city being in phase three of the Protecting Chicago's Framework plan, announced Mayor Lori Lightfoot.
"During phase four, where the city expects more than 200,000 Chicagoans to return to work , businesses must still maintain a limit of 25% capacity and indoor gatherings have increased from 10 to 25.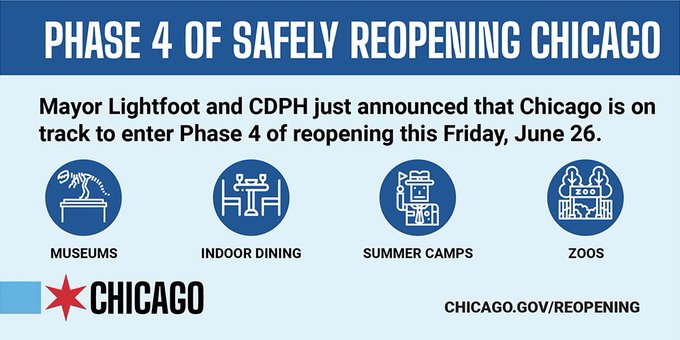 Residents can visit www.chicago.gov/reopening for more information on the city's transition into phase four.
Phase III: Cautiously Reopen
On May 26, Mayor Lori Lightfoot, alongside the Chicago Department of Public Health (CDPH), industry leaders, labor leaders, and public officials, released industry-specific guidelines for safely operating within Phase III: Cautiously Reopen. This phase of reopening is set to begin in early June.
Aligned with the State of Illinois but tailored to Chicago's context, these guidelines advise employers and residents of Chicago on how to cautiously exit from shelter-in-place while continuing to prioritize the health of our most vulnerable residents.
Restore Illinois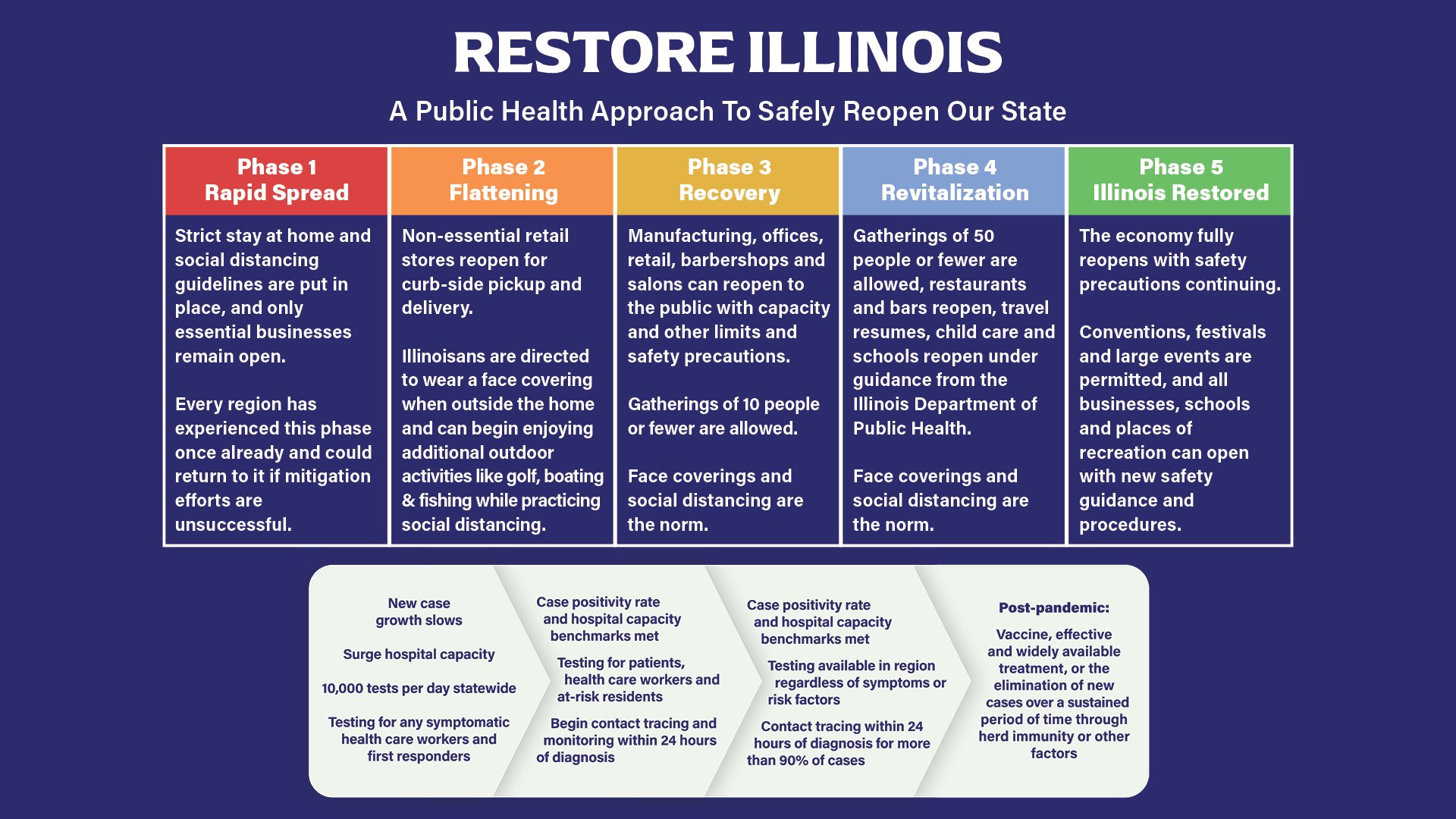 Stay-at-home order
On March 31, Illinois Gov. J.B. Pritzker extended the stay-at-home order to April 30, following the new social distancing timeline from federal government officials.
The stay-at-home order was initially set to expire on April 7. Pritzker made that order on March 20 in response to the growing number of COVID-19 cases. The order went into effect on Saturday, March 21 at 5:00 p.m.
Under the order, residents are able to go outdoors for essential needs or business, including trips to the grocery store, pharmacy, medical clinics, gas station and restaurants for takeout or curb-side pickup.
Testing sites
As of May 18, here is a list of the city's six new community testing sites with opening dates.
Maria Saucedo Scholastic Academy: 2850 W 24th Blvd, Chicago
Opening date: May 13
Symptomatic residents; Asymptomatic with known exposure to COVID, Drive-Thru, Walk-Up
Dr. Jorge Prieto Math and Science Academy: 2231 N Central Ave, Chicago
Opening date: May 15
Symptomatic residents; Asymptomatic with known exposure to COVID, Drive-Thru, Walk-Up
Guaranteed Rate Field Lot A: 3417 S Normal Ave, Chicago
Tentative opening date: May 26
Asymptomatic first responders and healthcare workers, Drive-Thru Only
Columbus Park: 5701 W Jackson Blvd, Chicago
Tentative opening date: May 19
Symptomatic residents; Asymptomatic with known exposure to COVID, Drive-Thru, Walk-Up
Gately Park: 744 E 103rd St, Chicago
Tentative opening date: May 22
Symptomatic residents; Asymptomatic with known exposure to COVID, Drive-Thru, Walk-Up
Kennedy-King College: 6301 S Halsted St, Chicago
Tentative opening date: TBD
Symptomatic residents; Asymptomatic with known exposure to COVID, Drive-Thru, Walk-Up
Senka Park: 5656 S St Louis Ave, Chicago
Tentative opening date: TBD
Symptomatic residents; Asymptomatic with known exposure to COVID, Drive-Thru, Walk-Up
On Wednesday, April 22, Gov. Pritzker announced two new mobile test site locations in Aurora and Rockford. These sites joined three existing state-run drive-through testing sites in Markham, Bloomington and Harwood Heights.
Anyone can be tested at the drive-through locations, even without a doctor's order, according to Pritzker. However, anyone who will be tested must be seated at a functioning window inside of the vehicle. For the safety of testing personnel, the drive-through sites are not accommodating walk-up individuals.
The service is free, but you will be asked to show a photo ID and a healthcare employee or first responder ID/badge, if applicable. There are significant wait times at these locations, and tests are available while supplies last each day. According to Pritzker, some test sites are administering up to 600 tests per day.
Harwood Heights: 6959 W. Forest Preserve Road, Chicago, IL
7:00 a.m. to 3:00 p.m. daily
Markham: 3824 W. 159th place, Markham, IL
8:00 a.m. to 4:00 p.m. daily
Aurora: 1650 Premium Outlet Blvd, Aurora, IL
8:00 a.m. to 4:00 p.m.
Bloomington: 1106 Interstate Drive, Bloomington, IL
9:00 a.m. to 5:00 p.m.
Rockford (opens April 24): 1601 Parkview Avenue, Rockford, IL
8:00 a.m. to 4:00 p.m.
On Wednesday, April 16, Gov. Pritzker announced partnerships with more Federally Qualified Health Centers (FHQCs) to ensure that COVID-19 testing is available and accessible to Black and brown communities, the ones most impacted by the pandemic.
The new sites that will be opening for free screenings and testing soon include:
TCA Health in Roseland (1029 E 130th St, Chicago) and Chatham (8425 S Cottage Grove Ave, Chicago)
Howard Brown Health locations in Little Village (2659 S. Kedvale Ave), Englewood (641 W 63rd St, Chicago) , Hyde Park (1525 E 55th St, Chicago) and Austin
Heartland Alliance Health in Englewood (5501 S Halsted St, Chicago) and Uptown (1015 West Lawrence Avenue, Chicago)
Aunt Martha?s locations in Chicago Heights (1536 Vincennes Ave.), Harvey, Joliet, and Chicago?s South Side
Erie Family Health Centers in the Evanston-Skokie region (1285 Hartrey Ave
Evanston), Humboldt Park (2750 West North Avenue Chicago), Waukegan
Quorum Health in Waukegan
VNA Healthcare in Aurora, Carol Stream, Romeoville and Elgin
Most locations ask that you call and make an appointment first before coming into the clinic for testing.
On April 14, Illinois opened its third state drive-through testing site. The new site, in Markham, administered more than 600 specimens in its first day of operation.
University of Chicago Medicine also is up to 1,000 free tests and screenings daily at its Hyde Park campus and at Ingall's Memorial in Harvey. Testing is not available without an appointment. Call 773-702-2800 for more information about UChicago Medicine's testing and 708-915-2683 for more information about testing at Ingall's Memorial.
Pritzker first announced the expansion of testing sites on Friday, April 10. This effort came days after health officials released data showing Black Chicagoans make up 72% of the COVID-19 deaths in the city, despite only comprising 30% of the city's total population.
The initial new testing sites he announced were:
Lawndale Christian Health Center (3860 W Ogden, Chicago)
PCC Community Wellness
Chicago Family Health Center
Friend Family Health Center
"Generations of systemic disadvantages in healthcare delivery and healthcare access in communities of color, and Black communities, are now amplified in this crisis all across the state and across the nation," Pritzker wrote in an April 10 press release. "We are making sure that our plans reflect equity in access, testing and treatment and we are asking the same of healthcare providers across the state."
As of April 9, according to state health officials, 11,413 Black residents in Illinois had been tested for COVID-19. Among them, 36% tested positive for the virus. Of the 20,906 white Illinoisans tested, only 18.36% were positive. And of the 3,566 Hispanic Illinoisans tested, 35% were positive."
Through a partnership with Lurie's Children's Hospital in Chicago, and four FQHCs, the state is expanding testing in Black and brown communities on the South and West sides. According to the April 10 press release, FQHC's are community-based health centers that serve low-income, uninsured and underinsured people.
Each site will administer an additional 400 tests per day. The swabs will be collected and sent to Lurie's Children's Hospital for testing.
Another COVID-19 hotspot is the Metro East region of Illinois, which borders St. Louis, Mo. The Southern Illinois Healthcare Foundation will offer up to 470 swabs per day at three locations in Metro East, and the swabs will be sent to Anderson Hospital in Madison County for testing. The Metro East region includes predominately-Black communities such as East St. Louis.
Parks + Lakefront + 606 Trail
On Thursday (March 26), Mayor Lori Lightfoot ordered the closing of Chicago's Lakefront, Riverwalk and 606 Trail in response to reports and social media photos of hundreds of people congregating in these areas the day before.
Lightfoot's executive order includes shutting down Lakefront adjacent trails, green spaces and facilities, fieldhouses, playgrounds and sport courts at city parks and the Riverwalk trail. The order also prohibits contact sports including basketball, football and soccer.
Under Lightfoot's executive order, CPD will be aggressively ramping up patrols along the Lakefront, at city parks and along the Riverwalk. At any time of the day or night, Beck said, people can be cited or arrested for refusing to obey the order.
Local COVID-19 Relief
On Friday (March 27), Mayor Lori Lightfoot announced a new relief program for Chicago residents struggling to pay rents and mortgages during the COVID-19 crisis.
The relief program, called the COVID-19 Housing Assistance Grant, is a partnership with the city's Department of Housing (DOH) and the Family Independence Initiative. In the coming weeks, DOH will use $2 million from its Affordable Housing Opportunity Fund to support one-time grants for those impacted by the novel coronavirus.
"Due to the unprecedented impact of the COVID-19 crisis, we have a responsibility as a city to support our residents and families during their urgent time of need," Lightfoot expressed in a press release. "This program represents a critical resource not only to our communities, but our entire city as we navigate this evolving challenge to ensure every Chicagoan remains safe, healthy and secure."
As of now, there will be 2,000 grants of $1,000 each awarded through the COVID-19 Housing Assistance Grant. Half of the grants will be given out through a lottery system. The other half will be distributed by nonprofit organizations across Chicago.
Applicants can apply online at www.chicago.gov/coronavirus or through participating nonprofit organizations. The application deadline is April 1st at 11:59 p.m. central time. Click here for the online application form.
In order to be eligible for funding, applicants must show a recent unemployment insurance claim, notification of employment status change and proof of household income at or below 60% of the area median income prior to job loss.
State officials also shared updates on support services such as the Supplemental Nutrition Assistance Program (SNAP) and the Department of Family & Support Services Homeless Outreach and Prevention program. According to Grace Hou, secretary of the Illinois Department of Human Services (IDHS), monthly SNAP benefits will increase dramatically due to the recent passage of the Federal Family First Legislation.
Before COVID-19, a single person with a disability or an older adult with a monthly income less than $2,000 would be eligible for $16 in monthly SNAP benefits. Now, they're eligible for $194, Hou said.
IDHS also has $6 million in new funding to support the continuance of care for those experiencing homeless and in need of shelter during the crisis.
On March 26, Penny Pritzker announced that she is chairing the new Illinois COVID-19 Response Fund, and has already raised $23 million. The money will be dispersed to nonprofits across the state helping families, communities and individuals hit hardest by the coronavirus pandemic. More information can be found at https://www.ilcovidresponsefund.org/
On March 29, Pritzker expressed concern about reports of nurses and health care workers being kicked out of apartments, or denied rentals, in other states over fears of infections. Although he hasn't heard of this happening in Illinois, he had a message for the state's landlords.
"Let me be clear, that will not be tolerated in our state."
Evictions are prohibited in Illinois during the COVID-19 crisis, Pritzker continued. If any health care worker is experiencing difficulty with a landlord, Pritzker said they should immediately contact the Lawyers Committee for Civil Rights Under Law.
Volunteer Efforts
In an effort to increase healthcare capacity, Gov. Pritzker announced on March 30 that the National Guard and the Army Corps of Engineers will assist in turning McCormick Place in downtown Chicago into a field hospital.
According to a press release from the National Guard, about 30 Illinois Air National Guard members will help with construction. And another 10 airmen arrived at McCormick Place today to help.
By the end of April, Gov. Pritzker hopes to have 3,000 beds at McCormick Place, which will be dedicated to non-acute COVID-19 patients, those who are not likely in need of a formal ICU.
She also called on Chicagoans with medical training to sign up for healthcare jobs and volunteer efforts. Anyone who is interested in delivering food assistance or childcare as well, are more than welcome to help out. Those interested in volunteering can visit the resources page at chicago.gov/coronavirus for more information.
Chicago Mayor Lori Lightfoot joined Ezike and Pritzker at the press conference. She said McCormick Place will help with the anticipated surge in COVID-19 case numbers.
Bars + Restaurants + Grocery stores + Events
State officials also are working with grocers who are seeing major surges in shoppers because of coronavirus fears. Pritzker said he's asking grocery stores to end prohibitions on overnight grocery deliveries.
He's also asking residents not to panic buy.
"Please do not hoard food. Buy what you need but please be reasonable," Pritzker said. "There is enough food to go around."
On March 15, Chicago Mayor Lori Lightfoot announced new measures for bars and liquor establishments.
"Due to concerns around St. Patrick's Day festivities, the city is enforcing all businesses that sell liquor to have less than half of their regular max capacity," Lightfoot wrote on Twitter. "Additionally, any establishments that sell liquor will have a max capacity of 100 people."
Lightfoot made this announcement after disappointment over the long lines and crowds at bars during St. Patrick's Day weekend. At a press conference last week, Lightfoot and Illinois Gov. J.B. Pritzker cancelled St. Patrick's Day parades across the city due to concerns over the spread of coronavirus.
Schools
All K-12 schools in Illinois will be closed beginning Tuesday, March 17. In mid April, Pritzker announced that all schools in Illinois will be closed for the remainder of the 2020 school year.
CPS is using its school buildings to distribute grab-and-go breakfasts and lunches to children between 9:00 a.m. and 1:00 p.m. every day. Children can go to any CPS school building to pick up food, Pritzker said.
Travel
On March 14, Vice President Mike Pence announced an extension of the European travel ban to include the UK and Ireland. The ban does not apply to U.S. citizens or their family members.
This announcement created a surge of travelers returning to the U.S., which led to heavy crowds at international airports across the country.
"What should've happened, they should have increased the [U.S.] Customs and Border Protection [agent] numbers and then should have increased the number of [Centers for Disease Control] personnel on the ground doing those [coronavirus] checks," Pritzker said March 15 on NBC's "Meet The Press."
By Sunday afternoon, Pritzker had received news from Vice President Pence and the U.S. Department of Homeland Security that CPB will be increasing its staff at O'Hare.
Anyone traveling back to the U.S. during the travel ban will be funneled through one of 13 U.S. international airports that are being equipped to do special screenings in an attempt to prevent the spread of coronavirus.
John F. Kennedy International Airport;
Chicago O?Hare International Airport;
San Francisco International Airport;
Seattle-Tacoma International Airport;
Daniel K. Inouye International Airport Honolulu, Hawaii;
Los Angeles International Airport;
Hartsfield-Jackson Atlanta International Airport;
Washington-Dulles International Airport;
Newark Liberty International Airport;
Dallas/Fort Worth International Airport;
Detroit Metropolitan Airport (DTW);
Boston Logan International Airport; and
Miami International Airport.